NEW!   We now offer frame-by-frame FULL HD High-Definition film transfer. Our 1920 by 1080 resolution 3-CCD chip camera produces an absolutely stunning image! If you would like to have a Blu-ray transfer, make sure to select the HD option in the Film Transfer Type drop-down menu. We highly recommend it. Transfer Process
We do not transfer film by shooting its image reflected off a surface, but instead we project its image straight onto a video chip! This is an important difference which makes our transfer process unique. The process of shooting the image from a reflected surface, such as over a matt glass or a silver screen, will not produce a 1:1 capture of the image. But our process does. We project the picture directly onto a 3CCD video chip. This gives us a 1:1 recording of the picture! The recording is therefore sharp and is a light-true representation of what's on the film.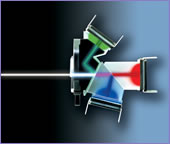 Video camera
We use a 3CCD video camera for our transfers. This is a broadcast quality camera -- the same technology used in TV studios. It gives us an uncompromised quality recording of your film.



If you attempt to transfer your film to DVD yourself, here are do-it-yourself steps to avoid


Film transfer

This process involves a technician controlling the contrast, brightness, sharpness, and to some degree the color of the images being digitized. The process requires someone with a trained eye to effectively correct all these variables.

Film cleaning

We use professional film cleaners to clean your film. This process consists of feeding the film through special cloths moistened by the cleaning solutions. The film goes through this process two times, or more if needed. This cleaning process traps dust and unwanted dirt particles. We recommend special treatment with a solution called "Film Renew" if the film has a mold buildup or is overly brittle.

This is rarely required.


"Film Renew"

We recommend using professional "Film Renew - Urbanski Film" to clean it if the film has mold buildup or has become overly brittle. This process consists of running the film through cloths moistened by "Film Renew" solution. The procedure is carefully done four times - or more as needed.

Splice Renewal

Renewing splices is very time-consuming and must be done with great care. We use professional film cement glue to complete the splice. (any broken splice, missing leader or splices which need replacing)