From RAW to FINAL
These are the steps we take, from the initial capture of your film transfer, all the way through to the last step of making your output file.

This outline is intended for individuals who want to know exactly what is done to their transfer, when they have chosen all of our "image enhancement" options. It also shows how (and why) we need to take these steps, in a particular order. Note: If you do not choose all 3 of the "image enhancement" options, the work-flow steps will somewhat differ.
Also note that after each step in this outline, your file must be rendered, which creates a new file. Presently, there is not a more efficient way to do this. So, there are quite a few steps along the way before arriving at the final output file.

The first three steps are accomplished with a 10 bit file, because this superior and larger file has finer color gradation (aka color depth) available from which to perform further "image enhancement options." Even though in most cases you'll receive an 8 bit file, the bulk of the extra work happens with a 10 bit file.
Step 1:
(RAW)
DigitizingDigitizing happens in Full-HD (10 bit) and includes some adjustments to light-exposure and color. The output files in steps 1 through 4 result in files that contain no duplicate frames -- vital for accomplishing steps 3 and 4. Playing any of the files in steps 1 - 4 will appear as if it's in fast motion. It's not until step 5 that the final playback speed is corrected.
Step 2:
Secondary Color CorrectionHaving the finer 10 bit color gradation available tremendously benefits the task of secondary color correction. (This task can still be done with an 8 bit file, but is less ideal because gradation banding art-effects start to show.) This task is then followed by "cleaning up" any bad camera pixels -- most cameras have this challenge.
Step 3:
Images Stabilization
 (10 bit) Vertical mirroring (ie. flipping) of the image and the centering of image happens during this step. Sharpening of the image also takes place to compensate for the slight softness the image stabilization brings.
The output file at this step will either be in 10 bit or 8 bit, depending on the file type our customer requested.
Step 4:
Grain Reduction
The grain reduction process relies heavily on the information of neighboring frames (the most recent frame and the next frame) to improve the look of the current processed frame. That is why it is best to do this step after the image stabilization and before speed correction. During speed correction is where duplicate frames are introduced.

It is best to start off doing secondary color correction before grain reduction. This is because the grain reduction process is an 8bit process. In other words, the process of grain reduction will convert our 10 bit file into an 8 bit file. So please note that if one decides to hold off on doing the "secondary color correction", performing it instead after the file's "grain reduction", it results in a more limiting starting point. This is why it's best to follow the steps in the above ascending order.

Speed correctionThis final step corrects for proper playback speed and final cropping or masking (if any) of the image to obtain clean side edges. Note: The playback speed of all previous files is in fast motion. It is only after this final step that the playback speed is correct. 

final output file in 10 bit

ProRes or AVI file

final output file in 8 bit

MP4, Blu-ray, DVD
Transfervorgang

Unser Transfer geschieht nicht durch einfaches Abfilmen, sondern durch Abtasten der Filme. Das ist ein wesentlicher Unterschied. Beim Abfilmen wird das Bild über eine Mattscheibe oder Silberleinwand abgefilmt. Dieser Vorgang bietet keine 1:1 Aufzeichnung, da man hier nur die Reflektion des Bildes abfilmt. Sie ist qualitativ unscharf und bewirkt eine Lichtstreuung von hellen zu dunklen Stellen. Das wiederum ergibt um sehr helle Bildbereiche herum eine Art Heiligenscheinwirkung. Die von uns durchgeführte Methode unterscheidet sich wesentlich: Das Abtasten der Filme bedeutet, dass wir das Bild direkt auf einen 3CCD Videochip projizieren. So ermöglichen wir eine 1:1 Aufzeichnung, scharf und lichtecht.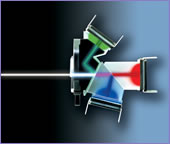 Abtastkamera
Wir verwenden dafür eine hochwertige 3CCD Videokamera. So erreichen wir eine kompromisslose Aufzeichnung des Bildes. Der Vorteil im Vergleich zu einer herkömmlichen Videokamera liegt darin, dass das Bild vor der Aufzeichnung in die drei Videofarben gesplittet wird. Das ergibt eine farbechtere Aufzeichnung mit mehr Bilddetails, da der Lichtstrahl nicht interpoliert werden muss. Testen Sie uns und lassen Sie sich positiv überraschen.





Filmreinigung Wir verwenden professionelle Filmreiniger, um Ihren Film zu reinigen. Dabei wird der Film mit Textillappen behandelt, welche mit Reinigungsmitteln benetzt sind. Dieses Verfahren wird zweimal durchgeführt. Dadurch werden Staub und unerwünschte Schmutzpartikel entfernt. Wir empfehlen Ihnen, den Film mit einem speziellen Mittel ("Film Renew") zu behandeln, wenn der Film schimmelig oder sehr spröd ist.

"Film Renew" Film Renew wird grundsätzlich dann angewendet, wenn Ihr Film spröde, geschrumpft und/oder das Essigsyndrom aufweist. In diesem Fall wird der Film auf eine Metallspule umgewickelt und in einem mit Film Renew gefüllten Bad kurz getränkt und anschliessend nass in einer geschlossenen Metalldose aufbewahrt. Da die Flüssigkeit so nicht an die Luft entweichen kann, wird sie vom Film aufgenommen, damit der Film wieder aufquillt.

Erneuerung einer Klebstelle Die Erneuerung ist sehr zeitaufwendig und sollte mit großer Sorgfalt durchgeführt werden. Wir verwenden professionellen Filmklebstoff zur Ergänzung der Klebestelle.